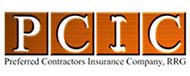 PLATINUM PROGRAM
for Contractor Insurance
This instant on-Line price indicator program is set up for larger contractors and hard to place risks such as home builder, fire sprinkler install, swimming pools, framing and tree trimming.
Another contractor insurance program from Preferred Contractors Insurance Company, Risk Retention Group, LLC.
View all acceptable contractors and subcontractors
What is a risk retention group?
---
PROGRAM HIGHLIGHTS
---
Low Down Payment – as low as $439
Lapse in Coverage Accepted
New Ventures Accepted
Multi State Coverage
Occurrence Form
Online Rating
Same Day Policy
Gross Receipt Based
Monthly Payment Plans
No Maximum in Gross Receipts or Payroll
---
A Rated (07/25/14)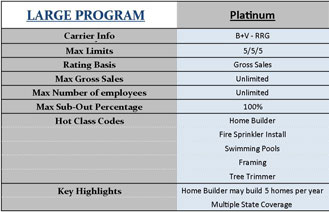 Compare All Preferred Contractors Insurance Company Risk Retention Group, LLC. Programs
Click Here
---
MAXIMUM LIMITS
---
$5,000,000 Per Occurrence
$5,000,000 General Aggregate
$5,000,000 Products/Completed Ops Aggregate
---
DEDUCTIBLES
---
$1,000 | $2,500 | $5,000 | $10,000
Standard Deductible is $1,000*
*Applies to property damage and bodily injury on a per claim basis.
PLATINUM PROGRAM GUIDELINES
Condos and Town Homes
– Work for single unit owners or common areas only
– No projects involving more than one unit – No structural work
Incidental roofing allowed in conjunction with room additions (subject to $25,000 sub limit) – (OK for General Contractors in conjunction with remodels and room additions)
No framing as a subcontractor
– (OK for General Contractors in conjunction with remodels and room additions)
No foundations as a subcontractor
– (OK for General Contractors in conjunction with remodels and room additions)
No general contractors performing new ground up construction
PLATINUM PROGRAM
TRADE CONTRACTORS WELCOME
Over 20 Subcontractor Classes Accepted
General Contractor (New Residential)
General Contractor (New Commercial)
Remodel Contractor (Residential)
Remodel Contractor (Commercial)
Air Conditioning System Installation
Appliance and Accessories Installation
Carpentry (Framing)
Carpentry (Interior/Woodwork/Shop)
Carpet Cleaning
Cleaning (Outside Building)
Concrete (Flat)
Debris Removal
Door & Window Installation
Drilling
Drywall
Electrical
Equipment Rental (with operator)
Garage Door Installation
Glass Installation/Glazing
Grading
Guniting
Excavation
Fencing
Fire Sprinkler Installation
Floor Covering Installation
Framing

Handyman/NOC Labor
HVAC
Insulation
Janitorial
Landscape
Masonry
Metal Erection (Decorative)
Metal Erection (Structural)
Painting (Interior)
Painting (Exterior)
Paper GC
Plastering/Stucco
Plumbing (Residential)
Plumbing (Commercial)
Sandblasting
Scaffolding
Septic Tank (Service, Repair, Installation)
Sewer Mains
Sheet Metal
Siding and Decking
Street/Road Paving (Commercial)
Swimming Pool Cleaning
Swimming Pool Installation
Tile and Marble Installation
Tree Trimmer
Welding
PLATINUM  PROGRAM QUOTE & BIND PROCESS
Our user-friendly online system allows you to quote and apply all in one place. Your application and policy offer will be emailed to you using Adobe EchoSign.
EchoSign is the easiest online signing experience in the industry – so you'll get your policy bound quickly. You'll receive an email with a link to your policy offer which is loaded into a web browser, so no downloads or software installations are needed! Then, review and e-sign instantly online or offline with a mouse, stylus or by typing your name. If you'd prefer, we can still use the good'ol fashioned print and fax!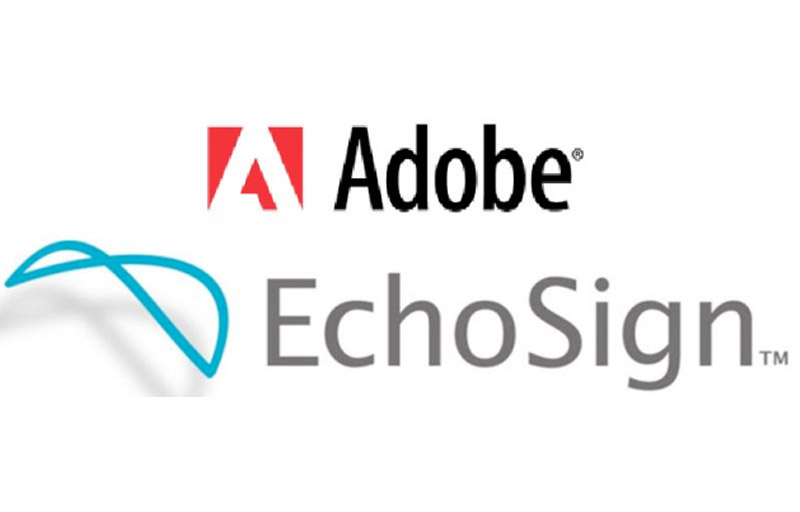 PLATINUM PROGRAM ARTICLES & UPDATES
OLDWICK, N.J. – JULY 25, 2013 A.M. Best Co. has revised the outlook to stable from negative and affirmed the financial strength rating of B+ (Good) and issuer credit rating of "bbb-" of Preferred Contractors Insurance Company Risk Retention Group, LLC (PCIC) (Billings, MT).The ratings reflect PCIC's adequate level of risk-adjusted capitalization and recent improvements in operating performance. The ratings also reflect management's substantial expertise in marketing the type of business PCIC writes.Partially offsetting these positive rating factors are PCIC's volatile operating results during the first five years of operation, high expense ratio and limited business profile. An additional offsetting rating factor is the execution risk associated with the implementation of PCIC's business plan. Compare price estimates for your contractors insurance premium rate instantly – online. Further rating factors are the company's fundamental business strategies, which include providing stable pricing for insurance coverage coupled with quality service for its members. Reflecting its limited business profile, PCIC as an insurer is exclusively oriented toward one class of insureds. PCIC maintains a conservative operating strategy by limiting participation in its insurance program to members that meet stringent underwriting standards. PCIC provides general liability coverage to general contractors and subcontractors in the residential and commercial construction industry. The stable outlook recognizes two consecutive years of PCIC's improved underwriting results; thus, reducing A.M. Best's concerns surrounding its historical volatile performance. More Preferred Contractors rating... read more